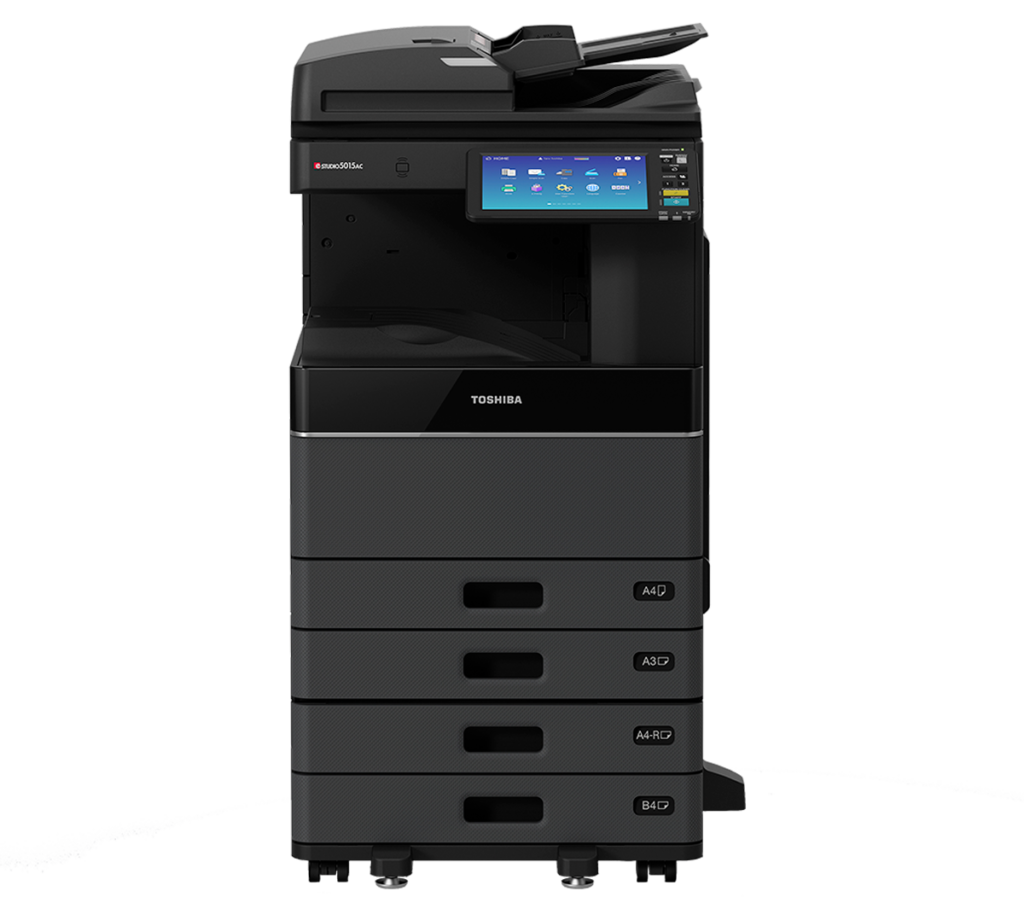 Every business is unique. That's why Toshiba offers the latest customisable solutions that can be tailored to meet your needs. 
Flexible integration with third-party applications, an embedded web browser and the support of cloud and mobile printing are just some of the features, which will enhance your efficiency and boost your productivity. 
Protecting your business' data is at the top of our minds while designing our products and we offer a large range of built-in and optional features to help enhance your security and aid GDPR compliance.
The e-STUDIO desktop is a robust A4 printer that suits a wide range of applications thanks to its efficiency, reliability and adaptability. 
A resolution of up to 1,200 x 1,200 dpi produces exceptional documents with crystal-clear images, and the device maintains high print quality from the first to the last print. 
Mobile printing capabilities enhance organisations with flexible working in multiple locations.
The e-STUDIO A4 MFD's are an asset to any business or workgroup that requires productivity, reliability and ease of use. 
These compact A4 multifunctional devices offer remarkable image quality print after print. The tiltable, colour touch screen and keypad offer a straight- forward way to access all the device's functions and features. 
In addition, the privacy of your data is extremely important, so an optional card reader is available to add an extra layer of security – giving you full control over who has access to sensitive business data.
Small enough to fit into the tightest of spaces combined with the flexibility to integrate into your environment. 
Stylish and sleek, yet rugged and powerful and with print speeds of up to 6 ips, it handles even demanding printing applications with ease. 
The Toshiba barcode system is an easy-to-use and cost-effective desktop labelling solution. It comes with a variety of both built-in as well as optional features and provides true versatility to support a wide range of local and remote applications.
Fast, sleek and versatile. Toshiba's high-end A3 colour line-up has an ultra-modern look and houses the latest technology with brilliant print quality, delivered at a speed of up to 75 pages per minute in colour as well as up to 85 pages per minute in monochrome. 
While AirPrint and Mopria both support the printing needs of mobile device users, Wi-Fi Direct simplifies access to the MFP. Toshiba's exclusive e-BRIDGE Print & Capture app enables additional printing features and the ability to scan documents back to tablets or smart phones. 
As each company has different ways of storing and sharing data, these colour systems can be equipped with apps, which meet your business requirements or preferences. Whether you wish to connect to cloud services or local applications, we have the solution.
Custom solutions designed for you
Talk with one of our dedicated sales team